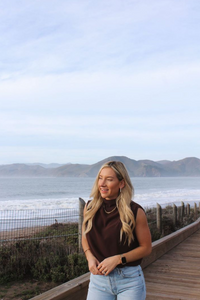 Meet Krista
I'm so pleased to meet you and happy you landed upon my cute, little, curated shop! As someone who has always been interested in fashion and styles, I found the best way to evolve my passion of shopping was putting together my own collection. I wanted to bring pieces I love to others and also incorporate pieces that can interchange with an existing closet.
I find great happiness in real conversations with people and especially when we can bond over something as fun as fashion and how it makes us feel, so reach out! I would love to hear your thoughts on what you hope to see in future collections as well as what you are liking with our current pieces. Don't forget to tag us in your new Kay Ley pieces and show off how you styled them. I love to see that! Remember, wear what makes you feel the most happy and most confident!
xoxo
Krista Dotto
Who We Are
Kay Ley Collective is founded on the idea of simplicity, wholesomeness, and comfort. We are driven by creativity, kindness, a genuine connection, and a desire to remind the world of humanity's innate beauty. We strive to provide high-quality and versatile pieces that help our customers foster trust and feel comfortable, confident, and styled. That's the goal!
We hold a strong desire for an effortless and timeless style. A capsule wardrobe that can take you from work straight to a night out and every occasion in-between. Life gets hectic and, trust us, we get it! You want to look your best and feel ready to tackle the day and the last thing you want is an outfit to ruin your mojo. Therefore, KLC has designed a perfectly curated closet for that exact desire and selling modern women's attire ranging from high end denim, tops, outerwear, resort wear, beauty essentials and dresses.
We cater to the woman that obsesses over the modern, girly, romantic, dressed-up style exploring an iconic Upper east-side look, but also resonate with the woman wanting to sport in a classic West Coast, laid back, comfortable beach ensemble.
Our goal is for every woman to feel comfortable, confiednt, sophisticated, trendy and stress free when it comes to her style.
"Absolutely unparalleled products and service. I'm confident that this store will be a huge success in its industry, and that its products will be timeless and high quality."